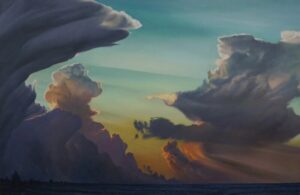 David Holland is a visual artist living in Oklahoma City, Oklahoma, born in Lawton, Oklahoma in 1959 into an Army family.  By the time he graduated from high school he had lived in Oklahoma, Kansas, Okinawa Japan, Idaho, Maryland, and Arkansas. At the age of 7 while in Moscow, Idaho his mother enrolled him in an art class at the University of Idaho that sparked his interest in creating art. His travels with this family exposed him to a broad range of people and communities. Always the outsider, he became an observer of everything around him.
After moving back to Oklahoma in 1977, he graduated from John Marshall High School in Oklahoma City. He began to study art at Oklahoma City University in 1981 and graduated with a Bachelor of the Arts degree in 1983. While at OCU he had the opportunity to enter a juried competition of artwork by members of the Oklahoma Museum of Art. His highly detailed pencil drawing of the interior of a log cabin and a watercolor of an ancient bristlecone pine tree in a rocky landscape were accepted into the member's exhibition. The log cabin drawing was so realistic that it was mistaken as a photograph and labeled as such.
He had the opportunity in 1983 to work as a gallery manager for the Green Gallery, owned by art collector Courtland Green, in Oklahoma City (see article).and got to see the "art world" from the inside. His senior art exhibition was held at the Green Gallery in the spring of that year.
As an adult traveler David has had the good fortune of five trips to Europe where he toured countless art museums and got a sense of the infinite variety, value and longevity of art. Photographs taken while in those museums led to one of his series he calls the "Torso Series" where he depicts ancient broken Roman marble torsos in vivid colors. The bright contrasting colors give them a hyper three dimensional appearance. Three dimensional depictions are very important to him because he lost sight in his left eye in 1983 from a work accident while working at a stained glass studio and is now only able to see in two dimensions.
The Oklahoma Museum of Art played another role in his growth as an artist when in 1995 his large format pencil drawing of a downtown Oklahoma City scene reflected in one of the mirrored columns at Leadership Square won best of show at an exhibition hosted by OMA. He has been an artist exhibitor at Oklahoma City's downtown Festival of the Arts in 2000, 2001 and 2005. His work has also been exhibited in the Oklahoma Visual Arts Coalition (OVAC) "Painting and Drawing Biennial" of 1999, 2001 and 2005 where three of his works received top honors in the 2001 exhibition.
In 2006 OVAC awarded David an opportunity to attend Creative Capital's Professional Artist Development Retreat and he took away from that weekend a new understanding of how a career in art can be developed through a commitment to professionalism and the business end of art. He now gives talks to fellow artists and art students on topics related to the career development of artists.
In March of 2010 in his hometown Lawton, Oklahoma, he exhibited 35 pieces of his series "Modern Life", at the Leslie Powell Foundation and Gallery. This work visually depicts in a wryly humorous, colorful way, the societal consequences of technology on the individual and how the pace of change that it brings about impacts them psychologically.
Not satisfied with the financial results of that exhibition and harnessing his desire to be a full time artist, he embarked on his current series of cloudscapes.  With the Christmas gift of a complete set of oil painting supplies, his new series featured oil paintings of the mercurial essence of clouds and storms in vivid color and detail.
His new subject matter opened doors to many exhibitions and enabled him to fulfill the dream he'd always had make art creation and painting his way of life.